Aluminium Bronze Blocks Manufacturer & Supplier in India
Aluminium Bronze CA104 Block Supplier, CA103 Cutting Blocks Manufacturer, AB1 Aluminium Bronze Blocks Stockist, UNS C62300 Cutting Blocks Exporter, SAE CA958 Aluminium Bronze AB2 Dealer, UNS C95800 Block Trader in Mumbai, India
DTD197A Aluminium Bronze CA104 Blocks Wholesaler, UNS C63020 Block Stockist, CuAl10Fe3Mn2 Aluminium Bronze CA103 Block Manufacturer, Aluminium Bronze W Nr 2.0966 Square Blocks, DIN 2.0936 Blocks Stockist, Aluminium Bronze Cutting Blocks Supplier in India.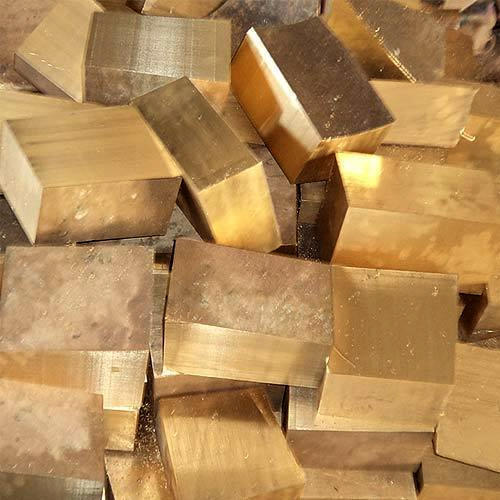 Magnum Industrial Solutions is India's leading manufacturer, supplier and stockist of Aluminium Bronze Blocks. Our aluminium bronze Cutting Blocks are manufactured using high-quality raw materials and are tested under the supervision of quality control inspectors before delivering to our esteemed customers. We maintain a huge stock of aluminium bronze blocks, in different grades, sizes, thicknesses, standards, and other specifications. We supply aluminium bronze ca104 Blocks, aluminium bronze ca103 blocks, aluminium bronze ab1 blocks, aluminium bronze ab2 blocks, uns c62300 blocks, etc. worldwide.
Our Aluminium Bronze Blocks come in different standards like ASTM, BS, EN, NF, DTD and other international standards. Aluminium Bronze Blocks have good strength and high corrosion resistance. Aluminium Bronze Blocks are mainly used in industries and applications like offshore and marine, valve and pump components, marine hardware and high strength fasteners, aerospace, automotive, shipbuilding, railways, springs, thrust washers, bearing bushes, gears, valve stems, bushes, cams, pump rods, etc.
CuAl10Fe3 Aluminium Bronze CA103 Rectangular Blocks, CuAl10Fe3Mn2 Aluminium Bronze CA103 Block Dealer, ASTM B271 AB2 Cutting Blocks, AIR9070 UA Aluminium Bronze CA104 Block, CuAl9Ni5Fe3 Aluminium Bronze CA104 Blocks, BS2874 Aluminium Bronze CA103 Block Supplier
Magnum Industrial Solutions is a trusted supplier & stockist of aluminium bronze cutting blocks in India. For any requirement of aluminium bronze blocks, contact us today and we will get back to you with the best quote. You can also email us your requirement at sales@aluminiumbronzealloy.com
Specification
| | |
| --- | --- |
| Material | Aluminum Bronze |
| Grade | CA104, CA103, AB1, AB2, UNS C62300, etc. |
| Shape | Cutting Blocks, Square, Rectangle |
| Thickness | 2mm - 500mm |
| Form | Extruded (Forged) |
| Application | Industrial |
| Applications | Automation Industry, Chemical Industry, Distillery Industry, Fertilizer Industry, Food Processing Industry, Gas Processing Industry, Oil Gas Industry, Paper Industry, Petrochemical Industry, Pharmaceuticals Industry, Power Generation Industry, Ship Building Industry, Sugar Industry |