Copper Nickel Bars & Rods Manufacturer & Supplier in India
Cu-Ni 90/10 Bright Bar, Cu-Ni 70/30 Round Bar, ASTM B151 Cupro Nickel Round Bars, Copper Nickel Rods Suppliers and Dealer in Mumbai, India.
Suppliers of ASTM B151 Cu-Ni Hex Bar, Cu-Ni Forged Bars Exporter, Cu-Ni Square Bar, Cu-Ni Round Bar, Cu-Ni Round Bars Manufacturer in India.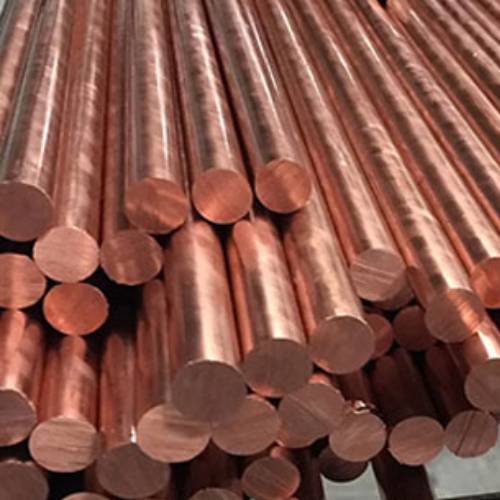 Magnum Industrial Solutions offers Copper Nickel Round Bars, which is factory made by our expert workmen who stand by factory-required necessities of all the clientele. Cu-Ni Square Bars are generally used in Fish crates for aquaculture, Hydraulic lines, Heat condensers, and exchangers, Desalination units, Tubes for ships and power plants, Seawater pipework, Offshore firewater systems, and so on.
Cupro Nickel Flat Bars is a copper based alloy industrialized as an economical substitute for Cu Ni Round Bars. Meanwhile, these Copper Nickel Threaded Bars (UNS C70600) are an alloy of nickel, copper, and firming components such as manganese and iron. Meanwhile, Cu-Ni Hollow Bars are also being offered in different sizes and shapes to our customers.
Specialist Distributor of ASTM B151 Cu-Ni Threaded Bar, Hot Rolled Cu-Ni Round Bar, Cupro Nickel Cold Drawn Round Bar, Copper Nickel Polished Bar, Cu-Ni Flat Bar, Cu-Ni Black Bar Exporter in India.
Magnum Industrial Solutions is a trusted supplier & stockist of Copper Nickel Bars & Rods in India. For any copper Nickel Bars & Rods requirements, contact us today and we will get back to you with the best quote. You can also email us your requirement at sales@aluminiumbronzealloy.com
Specification Of Copper Nickel Bars & Rods
| | |
| --- | --- |
| Standard: | ASTM, ASME, DIN, BS, EN, IS, AMS, JIS, IBR & Other International Standards. |
| Material & Grades: | CuNi 90/10, CuNI 70/30 International Standards. |
| Dimensions: | ASTM B151, ASME SB151 |
| Range: | 5 mm To 500 mm thick in 100 mm TO 6000 mm |
| Cu-Ni Round Bars: | 6 mm to 120 mm. |
| Cu-Ni Square Bars: | 10 mm to 200 mm. |
| Finish: | Black, Bright Polished, Rough Turned, NO.4 Finish, Matt Finish, BA Finish |
| Length: | 100 mm to 3660 mm Long |
| Form : | Round, Square, Hex (A/F), Rectangle, Billet, Ingot, Forging Etc. |
Copper Nickel Bars & Rods - Types
---
Copper Nickel Bars & Rods
ASTM B151 Cupro Nickel Bars & Rods
Cupro Nickel Rectangular Bars & Rods
Copper Nickel Welding Rods & Bars
ASME SB151 Cupro Nickel Bars & Rods
Cupro Nickel Bright Bars & Rods
Cupro Nickel Cu Hex Bars & Rods
ASTM B151 Cupro Nickel Round Bars & Rods
ASTM B151 Cu-Ni Bright Bars & Rods
Copper Nickel Polished Bar
---
Supplying Copper Nickel Bars & Rods to Following Domestic Cities
Mumbai, Delhi, Kolkata, Chennai, Bengaluru, Hyderabad, Ahmadabad, Pune, Surat, Jaipur, Kanpur, Lucknow, Nagpur, Ghaziabad, Indore, Coimbatore, Kochi, Patna, Kozhikode, Bhopal, Thrissur, Vadodara, Agra, Malappuram, Thiruvananthapuram, Kannur, Ludhiana, Nashik, Vijayawada, Madurai, Varanasi, Meerut, Faridabad, Rajkot, Jamshedpur, Srinagar, Jabalpur, Asansol, Vasai Virar City, Allahabad, Dhanbad, Aurangabad, Amritsar, Jodhpur, Ranchi, Raipur, Kollam, Gwalior, Durg-Bhilainagar, Chandigarh, Tiruchirappalli, Kota