Copper Nickel Flanges Manufacturer & Supplier in India
Copper Nickel Pipe Flanges, Cupro Nickel Pipe Flanges, ANSI Cu-Ni Flanges, Cupro Nickel Spectacle Blind Flange, ANSI B16.5 Cupro Nickel Orifice Flange, Cupro Nickel Slip On Flanges Supplier in Mumbai, India.
Cu-Ni Blind Flanges, Cupro Nickel Nippo Flanges, Cupro Nickel Nippolet Flange, ASTM A151 Cu-Ni Threaded Flanges, Cupro Nickel Socket Weld Flanges, Cupro Nickel RTJ Flange, Cu-Ni WNRF Flanges Exporter, Cupro Nickel Weld Neck Flange Dealer in India.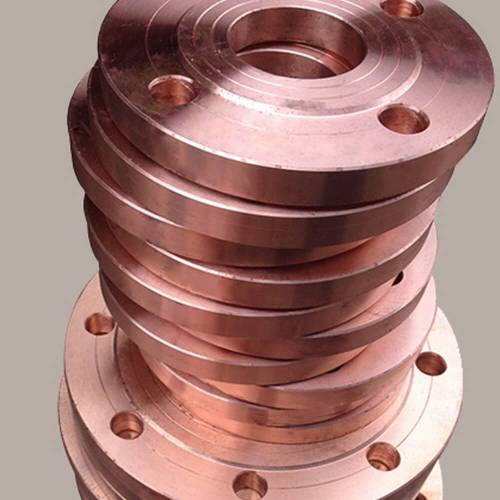 Magnum Industrial Solutions offers a quality range of Copper Nickel Pipe Flanges, which has some best features to offer such as sturdy construction, high tensile strength, accurate dimensions, and more.
Cupro Nickel Slip On Flanges (UNS C70600) has good strength at moderately elevated temperatures. Some common applications for Cupro Nickel Threaded Flanges include valves, pump components, fittings, flanges, and various other marine hardware components.
Cupro Nickel Ring Joint Flange, ASME SA151 Cu-Ni Lap Joint Flange, Cupro Nickel Screwed Flanges Stockist, ANSI B16.5 Cupro Nickel Ring Type Joint Flanges, Cu-Ni Industrial Flanges Stockholder, Copper Nickel Grade Forged Flanges Manufacturer.
Magnum Industrial Solutions is a trusted supplier & stockist of Copper Nickel Flanges in India. For any Copper Nickel Flanges requirement, contact us today and we will get back to you with the best quote. You can also email us your requirement at sales@aluminiumbronzealloy.com
Specification Of Copper Nickel Flanges
| | |
| --- | --- |
| Specifications | ASTM / ASME SB 61 / 62 / 151 / 152 |
| Material & Grades: | CuNi 90/10, CuNI 70/30 International Standards. |
| Size | 1/2" - 36" |
| Dimensions | ANSI/ASME B16.5, B 16.47 Series A & B, B16.48, BS4504, BS 10, EN-1092, DIN, etc. |
| Class / Pressure | 150#, 300#, 600#, 900#, 1500#, 2500#, PN6, PN10, PN16, PN25, PN40, PN64 etc. |
| Flange Face Type | Flate Face (FF), Raised Face (RF), Ring Type Joint (RTJ) |
Types of Copper Nickel Flanges
| | |
| --- | --- |
| Copper Nickel Raised Face Slip On Flanges | Copper Nickel Alloy Slip On Plate Flanges |
| Copper Nickel Slip On Flanges | ASME SA151 Alloy Slip On Flanges |
| Copper Nickel Raised Face Weld Neck Flanges | Copper Nickel Alloy Weld Neck Flanges |
| Copper Nickel Weld Neck Flange | ASTM SA151 Copper Nickel WNRF Flange |
| Copper Nickel Raised Face Blind Flanges | Copper Nickel Alloy Blind Flanges |
| Copper Nickel Blind Flange | ASTM SA151 Copper Nickel 600 BLRF Flanges |
| Copper Nickel Alloy Orifice Flanges | SA151 Copper Nickel Orifice Flanges |
| Copper Nickel Alloy Socket weld Flanges | ASME B16.5 Copper Nickel Socket weld Flanges |
| Copper Nickel Threaded Flanges | Copper Nickel Alloy Threaded Flanges |
Supplying Copper Nickel Flanges to Following Domestic Cities
Mumbai, Delhi, Kolkata, Chennai, Bengaluru, Hyderabad, Ahmadabad, Pune, Surat, Jaipur, Kanpur, Lucknow, Nagpur, Ghaziabad, Indore, Coimbatore, Kochi, Patna, Kozhikode, Bhopal, Thrissur, Vadodara, Agra, Malappuram, Thiruvananthapuram, Kannur, Ludhiana, Nashik, Vijayawada, Madurai, Varanasi, Meerut, Faridabad, Rajkot, Jamshedpur, Srinagar, Jabalpur, Asansol, Vasai Virar City, Allahabad, Dhanbad, Aurangabad, Amritsar, Jodhpur, Ranchi, Raipur, Kollam, Gwalior, Durg-Bhilainagar, Chandigarh, Tiruchirappalli, Kota