Titanium Flanges Manufacturer & Supplier in India
Titanium Grade 2 Pipe Flanges, Titanium Steel Spectacle Blind Flange, Titanium Alloy Nippolet Flange, Titanium Pipe Flanges, Titanium Slip On Flanges, ANSI B16.5 Ti. Alloy Orifice Flange, Titanium RTJ Flange Supplier in Mumbai, India.
Titanium Blind Flanges, ASTM B381 Titanium Threaded Flanges, Titanium Grade 5 Flanges, Titanium Socket Weld Flanges, Titanium Alloy Spacer Flange, Titanium WNRF Flanges Exporter, Ti. Alloy Weld Neck Flange Dealer in India.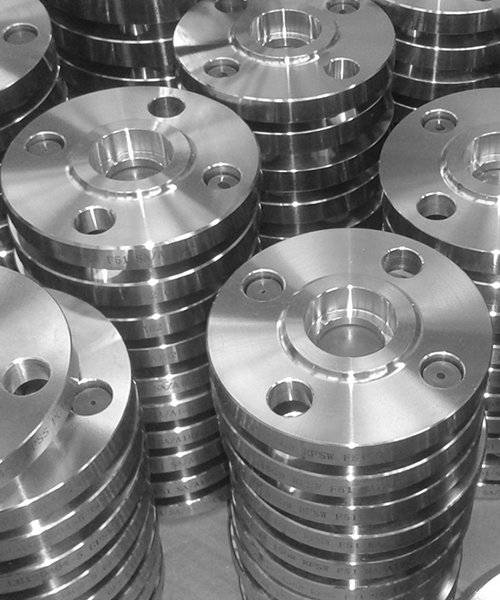 Magnum Industrial Solutions offers a wide range of Titanium Alloy Flanges, where these products is being offered by us are manufactured using high quality metal. Titanium Slip On Flanges (UNS R50400) is a solid solution alloy that can only be hardened by cold working. Welding methods including gas of arc welding, metal welding, gas of metal welding and submerged welding are recommended on these Titanium Threaded Flanges.
Titanium Blind Flanges are typified by their resistance to attack by acids and alkalis, as well as their high mechanical strength and good ductility. Meanwhile, these Titanium Lap Joint Flanges are also being offered in different sizes and shapes to our customers.
Titanium Nippo Flanges, Titanium Ring Joint Flange, Titanium Industrial Flanges Stockholder, Titanium Screwed Flanges Stockist, ASME SB381 Titanium Lap Joint Flange, ANSI B16.5 Titanium Ring Type Joint Flanges, Ti. Alloy Forged Flanges Manufacturer.
Magnum Industrial Solutions is a trusted supplier & stockist of Titanium Flanges in India. For any Titanium Flanges requirement, contact us today and we will get back to you with the best quote. You can also email us your requirement at sales@aluminiumbronzealloy.com
Specification Of Titanium Flanges
| | |
| --- | --- |
| Specifications | ASTM B381 / ASME SB381 |
| Material & Grades: | Titanium Grade 2, Grade 5, etc. |
| Size | 1/2"NB TO 60"NB |
| Standards | ANSI/ASME B16.5, B 16.47 Series A & B, B16.48, BS4504, BS 10, EN-1092, DIN, etc. |
| Class / Pressure | 150#, 300#, 600#, 900#, 1500#, 2500#, PN6, PN10, PN16, PN25, PN40, PN64 etc. |
| Standard | ANSI Flanges, ASME Flanges, BS Flanges, DIN Flanges, EN Flanges, etc. |
Types of Titanium Flanges
| | |
| --- | --- |
| Titanium Raised Face Slip On Flanges | Titanium Alloy Slip On Plate Flanges |
| Titanium Slip On Flanges | ASME SB381 Alloy Slip On Flanges |
| Titanium Raised Face Weld Neck Flanges | Titanium Alloy Weld Neck Flanges |
| Titanium Weld Neck Flange | ASTM B381 Titanium WNRF Flange |
| Titanium Raised Face Blind Flanges | Titanium Alloy Blind Flanges |
| Titanium Blind Flange | ASTM B381 Titanium 600 BLRF Flanges |
| Titanium Alloy Orifice Flanges | B381 Titanium Orifice Flanges |
| Titanium Alloy Socket weld Flanges | ASME B16.5 Titanium Socket weld Flanges |
| Titanium Threaded Flanges | Titanium Alloy Threaded Flanges |
Supplying Titanium Flanges to Following Domestic Cities
Mumbai, Delhi, Kolkata, Chennai, Bengaluru, Hyderabad, Ahmadabad, Pune, Surat, Jaipur, Kanpur, Lucknow, Nagpur, Ghaziabad, Indore, Coimbatore, Kochi, Patna, Kozhikode, Bhopal, Thrissur, Vadodara, Agra, Malappuram, Thiruvananthapuram, Kannur, Ludhiana, Nashik, Vijayawada, Madurai, Varanasi, Meerut, Faridabad, Rajkot, Jamshedpur, Srinagar, Jabalpur, Asansol, Vasai Virar City, Allahabad, Dhanbad, Aurangabad, Amritsar, Jodhpur, Ranchi, Raipur, Kollam, Gwalior, Durg-Bhilainagar, Chandigarh, Tiruchirappalli, Kota