Copper Nickel Sheets, Plates & Blocks Manufacturer & Supplier in India
Cupro Nickel 90/10 Plates, Copper Nickel 70/30 Sheets, ASME SB 122 Cupro Nickel Plate, Cu-Ni Plate, Cupro Nickel Blocks, Cupro Nickel Circle, Copper Nickel Sheets, Cu-Ni Hot Rolled Plates Supplier in Mumbai, India.
Copper Nickel Plate Exporter, ASTM B122 Copper Nickel Shim Sheets, Cu-Ni Cold Rolled Plates, Cupro Nickel Sheets, Cu-Ni Sheets Dealer in India.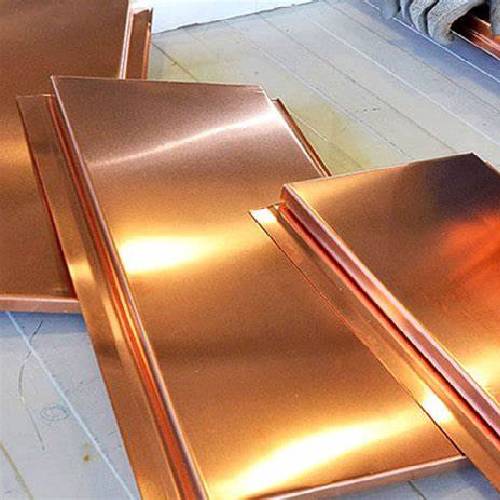 Magnum Industrial Solutions provides a quality collection of Copper Nickel Sheets Plates and Blocks, where our offered collection is ensured to be in acquiescence by means of the international quality standards.
Cupro Nickel Slatting Blocks (UNS C70600) exhibit bigger corrosion resistance in seawater. Meanwhile, Cupro Nickel Perforated Blocks are also being offered in different sizes and shapes to our customers. When other elements are present, nickel in Cu-Ni Sheets has the largest individual content after copper, compared with each other element.
Cupro Nickel Plate Stockholder, Distributors Of ASME SB122 Copper Nickel Blocks, Cu-Ni Polished Cold Drawn Plates, Cu-Ni Strips Stockist, Manufacturer.
Magnum Industrial Solutions is a trusted supplier & stockist of Copper Nickel Sheets, Plates & Blocks in India. For any Copper Nickel Sheets, Plates & Blocks requirements, contact us today and we will get back to you with the best quote. You can also email us your requirement at sales@aluminiumbronzealloy.com
Specification Of Copper Nickel Sheets, Plates & Blocks
| | |
| --- | --- |
| Standard: | ASTM, ASME, DIN, BS, EN, IS, AMS, JIS, IBR & Other International Standards. |
| Material & Grades: | CuNi 90/10, CuNI 70/30 International Standards. |
| Dimensions: | ASTM / ASME SB 122 |
| Size: | 1000 mm x 2000 mm, 1220 mm x 2440 mm, 1500 mm x 3000 mm, 2000 mm x 2000 mm, 2000 mm x 4000 mm |
| Thickness: | 0.1mm to 100 mm Thk |
| Form: | Coils, Foils, Rolls, Plain Sheet, Shim Sheet, Strip, Flat |
| Finish: | Hot rolled plate (HR), Cold rolled sheet (CR), 2B, No.3, No.4, HL, BA, 8K |
| Hardness: | Soft, Hard, Half Hard, Quarter Hard, Spring Hard etc |
Copper Nickel Sheets, Plates & Blocks - Types
---
ASTM / ASME SB122 Cu-ni Shim Sheets, Plates & Blocks
ASME SB122 Cupro Nickel Sheets, Plates & Blocks
Cupro Nickel Welded Plates & Blocks
Cu-Ni Welded Plates & Blocks
ASTM / ASME SB 122 Cupro Nickel Sheets, Plates
ASME SB 122 Copper Hot Rolled Plates
Copper Cold Rolled Plates
ASTM / ASME SB 122 Copper Polished Plates
ASME SB62 Copper Hot Rolled Plates
ASME SB122 Cu-Ni Hot Rolled Plates
---
Supplying Copper Nickel Sheets, Plates & Blocks to Following Domestic Cities
Mumbai, Delhi, Kolkata, Chennai, Bengaluru, Hyderabad, Ahmadabad, Pune, Surat, Jaipur, Kanpur, Lucknow, Nagpur, Ghaziabad, Indore, Coimbatore, Kochi, Patna, Kozhikode, Bhopal, Thrissur, Vadodara, Agra, Malappuram, Thiruvananthapuram, Kannur, Ludhiana, Nashik, Vijayawada, Madurai, Varanasi, Meerut, Faridabad, Rajkot, Jamshedpur, Srinagar, Jabalpur, Asansol, Vasai Virar City, Allahabad, Dhanbad, Aurangabad, Amritsar, Jodhpur, Ranchi, Raipur, Kollam, Gwalior, Durg-Bhilainagar, Chandigarh, Tiruchirappalli, Kota