Titanium Sheets, Plates & Blocks Manufacturer & Supplier in India
Ti. Alloy Sheets, Titanium Grade 2 Plates, ASME SB265 Titanium Alloy Plate, Titanium Plates, Titanium Alloy Blocks, Titanium Gr. 5 Sheets, Titanium Hot Rolled Plates Supplier in Mumbai, India.
ASTM B265 Titanium Shim Sheets, Titanium Plate Exporter, Titanium Cold Rolled Plates, Titanium Sheets, Titanium Sheets Dealer in India.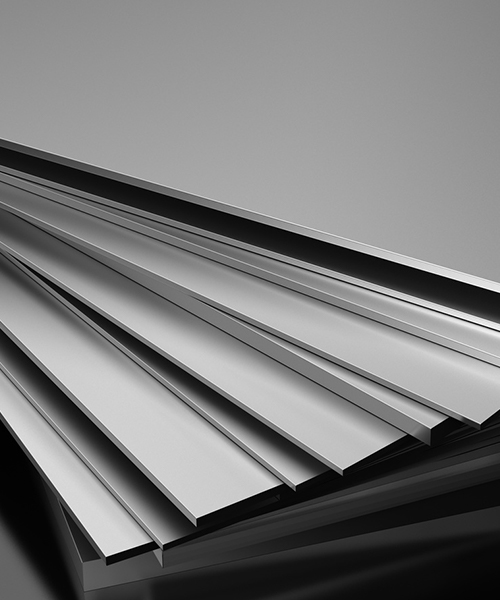 Magnum Industrial Solutions offers a superior quality of Titanium Sheets Plates and Coils, which has a number of outstanding features to offer such as dimensionally stable, fine finish, high material power, etc. Titanium Plates as well has some other excellent features to offer such as hard-wearing, light weight, soaring tensile potency and so on. Superior quality steel is used by our specialists to make the offered collection of Titanium Coils following market set rules.
Titanium Plates are also being offered in different sizes and shapes to our customers. Titanium Coils is also used in Automotive, Chemical Processing & Chlorate Manufacturing, Desalination, Architecture, Hydro Carbon Processing, Marine, Medical, and Power Generation. Titanium Slatting Coils is widely used because it combines excellent formability and moderate strength with superior corrosion resistance.
Titanium Plate Stockholder, Distributors Of ASME SB265 Titanium Coils, Titanium Alloys Polished Cold Drawn Plates, Titanium Strips Stockist, Manufacturer.
Magnum Industrial Solutions is a trusted supplier & stockist of Titanium Sheets & Plates in India. For any Titanium Sheets & Plates requirement, contact us today and we will get back to you with the best quote. You can also email us your requirement at sales@aluminiumbronzealloy.com
Specification Of Titanium Sheets & Plates
| | |
| --- | --- |
| Specifications | ASTM / ASME SB265 |
| Material & Grades: | Titanium Grade 2, Grade 5, etc. |
| Size | 1000 mm x 2000 mm, 1220 mm x 2440 mm, 1500 mm x 3000 mm, 2000 mm x 2000 mm, 2000 mm x 4000 mm |
| Thickness | 0.1mm to 12 mm Thk |
| Form | Coils, Foils, Rolls, Plain Sheet, Shim Sheet, Strip, Flats, Blank (Circle), Ring (Flange) |
| Finish | Hot rolled plate (HR), Cold rolled sheet (CR), 2B, 2D, BA NO(8), SATIN (Met with Plastic Coated) |
| Hardness | Soft, Hard, Half Hard, Quarter Hard, Spring Hard etc. |
Types of Titanium Sheets & Plates
| | |
| --- | --- |
| Titanium Foils | Titanium Alloy Foils |
| ASME SB265 Titanium Foils | Titanium Shim Sheet |
| Titanium Alloy Shim Sheet | ASTM / ASME SB265 Titanium Shim Sheet |
| Titanium Polished Plates | Titanium Alloy Polished Plates |
| ASTM / ASME SB265 Titanium Polished Plates | Titanium Hot Rolled Plates |
| Titanium Alloy Hot Rolled Plates | ASME SB265 Titanium Alloy Hot Rolled Plates |
| Titanium Cold Rolled Plates | Titanium Alloy Cold Rolled Plates |
| ASTM / ASME SB265 Titanium Cold Rolled Plates | Titanium Alloy Coils |
| ASTM / ASME SB265 Titanium Coils | Titanium Coils |
Supplying Titanium Sheets & Plates to Following Domestic Cities
Mumbai, Delhi, Kolkata, Chennai, Bengaluru, Hyderabad, Ahmadabad, Pune, Surat, Jaipur, Kanpur, Lucknow, Nagpur, Ghaziabad, Indore, Coimbatore, Kochi, Patna, Kozhikode, Bhopal, Thrissur, Vadodara, Agra, Malappuram, Thiruvananthapuram, Kannur, Ludhiana, Nashik, Vijayawada, Madurai, Varanasi, Meerut, Faridabad, Rajkot, Jamshedpur, Srinagar, Jabalpur, Asansol, Vasai Virar City, Allahabad, Dhanbad, Aurangabad, Amritsar, Jodhpur, Ranchi, Raipur, Kollam, Gwalior, Durg-Bhilainagar, Chandigarh, Tiruchirappalli, Kota