Titanium Bars & Rods Manufacturer & Supplier in India
Titanium Grade 2 Bright Bar, Titanium Bar, ASTM B348 Titanium Grade 5 Round Bars, Titanium Round Bar, Titanium Alloy Rods Suppliers and Dealer in Mumbai, India.
Suppliers of ASTM B348 Ti. Alloy Hex Bar, Titanium Alloy Forged Bars Exporter, Titanium Grade 5 Square Bar, Titanium Round Bars Manufacturer in India.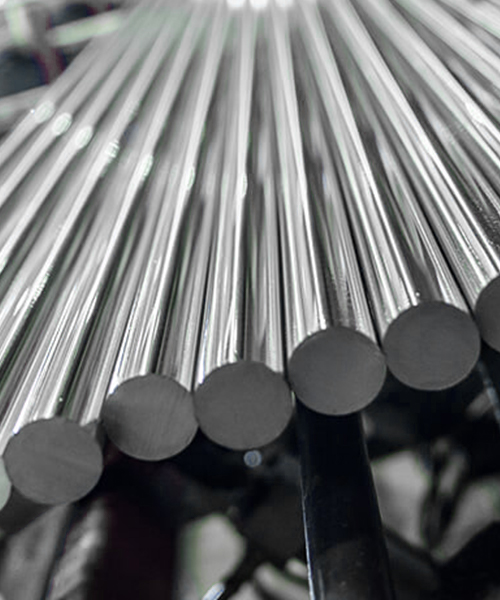 Magnum Industrial Solutions is a prominent manufacturer, trader and supplier of a vast collection of Titanium Round Bars. Titanium Square Bars is the most generally used and extensively obtainable grade of unalloyed titanium. These Titanium Flat Bars is characteristically used in applications that need higher corrosion resistance in different hostile media.
Titanium Threaded Bars as well offers superior strength and formability between 1 and 3. Titanium Hollow Bars provides soaring corrosion resistance and a better operational array than aluminum. By means of outstanding corrosion resistance, formability and moderate strength, Titanium Hexagonal Bars signifies the most extensively used form of titanium. Meanwhile, Titanium Triangular Bars are also being offered in different sizes and shapes to our customers.
Titanium Polished Bar, Titanium Alloy Flat Bar, Specialist Distributor of ASTM B348 Alloy Threaded Bar, Hot Rolled Titanium Round Bar, Titanium Cold Drawn Round Bar, Ti. Alloy Black Bar Exporter in India.
Magnum Industrial Solutions is a trusted supplier & stockist of Titanium Bars & Rods in India. For any Titanium Bars & Rods requirement, contact us today and we will get back to you with the best quote. You can also email us your requirement at sales@aluminiumbronzealloy.com
Specification Of Titanium Bars & Rods
| | |
| --- | --- |
| Specifications: | ASTM B348/ ASTM SB348 |
| Material & Grades: | Titanium Grade 2, Grade 5, etc. |
| Dimensions | EN, DIN, JIS, ASTM, BS, ASME, AISI |
| Size | 5 mm To 500 mm |
| Diameter | 0.1 mm to 100 mm |
| Length | 100 mm To 3000 mm Long & Above |
| Finish | Black, Bright Polished, Rough Turned, NO.4 Finish, Matt Finish, BA Finish |
| Tolerance | H8, H9, H10, H11, H12, H13K9, K10, K11, K12 or as per clients' requirements |
| Form | Round, Square, Hex (A/F), Rectangle, Billet, Ingot, Forging Etc. |
Types of Titanium Bars & Rods
| | |
| --- | --- |
| Titanium Alloy Bright Bar | Titanium Bright Bar |
| ASTM B348 Titanium Bright Bar | Titanium Alloy Hex Bar |
| Titanium Hexagonal Bar | ASTM B348 Titanium Hex Bar |
| Incoloy Square Bar | Titanium Square Bars |
| Titanium Alloy Square Bar | ASTM B348 Titanium Square Bars |
| Incoloy Rectangular Bar | Titanium Rectangular Bars |
| Titanium Alloy Rectangular Bar | ASTM B348 Titanium Rectangular Bar |
| Titanium Flat Bar | Titanium Alloy Flat Bars |
| Incoloy Flat Bars | ASTM B348 Titanium Flat Bars |
| Incoloy Polished Bar | Titanium Polished Bars |
| Titanium Alloy Polished Bar | ASTM B348 Titanium Polished Bar |
| Incoloy Threaded Bar | Titanium Threaded Bars |
| Titanium Alloy Threaded Bar | ASTM B348 Titanium Threaded Bar |
Supplying Titanium Bars & Rods to Following Domestic Cities
Mumbai, Delhi, Kolkata, Chennai, Bengaluru, Hyderabad, Ahmadabad, Pune, Surat, Jaipur, Kanpur, Lucknow, Nagpur, Ghaziabad, Indore, Coimbatore, Kochi, Patna, Kozhikode, Bhopal, Thrissur, Vadodara, Agra, Malappuram, Thiruvananthapuram, Kannur, Ludhiana, Nashik, Vijayawada, Madurai, Varanasi, Meerut, Faridabad, Rajkot, Jamshedpur, Srinagar, Jabalpur, Asansol, Vasai Virar City, Allahabad, Dhanbad, Aurangabad, Amritsar, Jodhpur, Ranchi, Raipur, Kollam, Gwalior, Durg-Bhilainagar, Chandigarh, Tiruchirappalli, Kota